J.B Pommery is from the Champagne region when he was called up to do his military service in Meaux. At the time, he married a young woman, the daughter of a miller, and subsequently stayed in the Meld region for many generations. It was in 1760 that a dignitary of the old Chapter of Meaux transmitted to him the said recipe from the famous preparation of the canons. He continued this quality dish, much appreciated by royal tables for decades. The Mustard of Meaux® then became the Moutarde de Meaux® Pommery®.
In addition to his mustard production, J.B. Pommery operated a stone quarry. In the region of Meaux and Ferté-sous-Jouarre there were the best stone quarries. In 1890 the Pommery family remained the only one to make mustard in Meaux.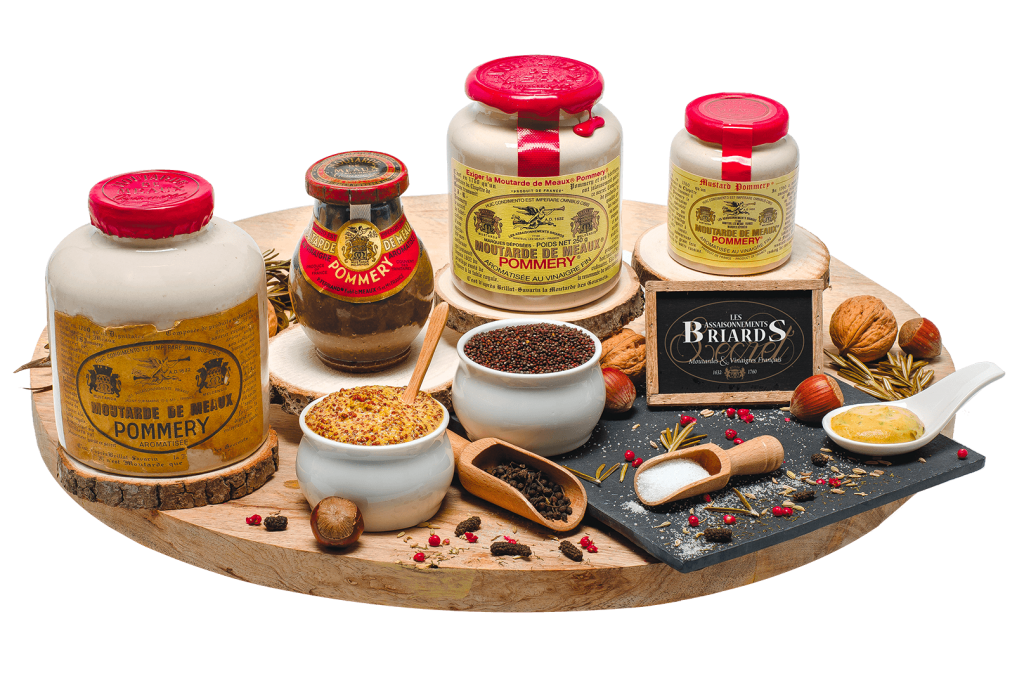 The Paris region is a land rich in sediments. Dating back thousands of years, the limestone formed and surmounted by a layer of millstone, a dense material, was used for the manufacture of grinding wheels for grain. At the time, without the current means of transport, companies settled on the site of the sources of exploitation. Thus, in the 15th century, the town of La Ferté-sous-Jouarre, just a few kilometers from Meaux, linked by the Marne, was a very large exploitation center whose world renown exported the millstones to England and North America. They were known to be the best in Europe.
With this local know-how, at the request of Charlemagne, the clergymen cultivated mustard in the bishoprics. The millstones were used to grind the mustard seeds to make flour; especially used for the pharmacopoeia in the form of poultices. Subsequently, the mustard that we know in its current form made it possible to mask the taste of foods that were not always fresh. In the 18th century, many mustard makers in Meaux took up the torch of the Canons, on a scale already industrial for the time.
Could this be the world's most gourmet mustard? Our sources say… Yes.
Now the range is expanding with new and original flavors such as the Moutarde de Meaux® Pommery with black truffle, the Moutarde de Meaux® Pommery with candied lemon zest and basil leaves, the Moutarde de Meaux® Pommery with Voatsiperifery wild pepper or the Moutarde de Meaux® Pommery with Espelette pepper. All these flavors will delight the palate of the most demanding epicureans.
Did you know? You can try Pommery right now, simply visit The Little Shop