BAIOCCHI (pronounced BY-OH-KEE) is a hazelnut and cocoa creme sandwich cookies or 'biscuits' as they are so fondly known here in Australia. Taken from the name of an ancient Italian coin, Baiocchi cookies are the perfect match of fine pastry and an irresistible cream filling. With just the right balance of cocoa and hazelnut filling between two delicious cookies, Baiocchi is sure to be your new favorite sweet treat.
No Preservatives

No Artificial Sweeteners

No Colorants

No Palm Oil or Hydrogenated Fats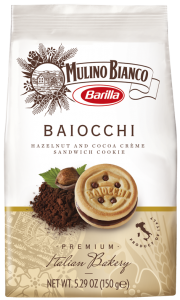 There is a reason why these biscuits are 'currently unavailable' on Amazon… These are shortbread cookies surround a rich hazelnut cocoa cream filling. This is a biscuit snack made with 100% Italian ingredients. When we talk the 'best' we have to look at nutrients: no preservatives, colorants, no hydrogenated fats, no artificial sweeteners and palm oil.
For those in the know, Barilla is trusted: over 140 years of craftsmanship, making authentic italian fine biscuits and irresistible treats. Fans of the Baiocchi biscuits claim they are a delicious way to start the day for breakfast with your favourite morning coffee, or for a sweet afternoon snack.
The producers, Mulino bianco, are known to practice sustainable production by safeguarding pollinating insect, reducing the use of chemical substances and choosing sustainable common wheat with a lower impact on the planet.
Did you know? You can try these delightful biscuits right now, simply visit The Little Shop