In today's Courier Mail we read "It's recommended for ice-cream, pancakes and cheese, but this balsamic vinegar that's just landed on the shelves of a Brisbane deli is one condiment you don't want to pour too liberally, thanks to its eye-watering price tag…" Here's why it's so expensive.
Local family owned ACIT Group's Italian connections have just landed the world's oldest and most valuable balsamic vinegar ever to arrive on Queensland shores. 
For the first time a rare, high-end Italian balsamic vinegar worth up to $1000 a bottle has just arrived. Harvested from the iconic Giusti family's 400-year-old vineyard in northern Italy's Modena, the ancient balsamic vinegar has been barrel-aged for up to 100 years and imported by Brisbane-based food logistics company, ACIT Group.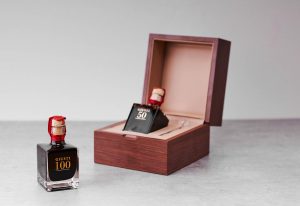 The first location to add the traditional balsamic vinegar to its menu is one of Brisbane's longest-standing authentic Italian spots, New Farm Deli & Café. Owners Vince and Maria Anello said the more discerning clientele at their deli couldn't get enough of Giusti. "With over 400 years of Italian history joined to our Brisbane deli's almost 50 years of history, it's definitely a brilliant fit for us," said Mr Anello.
"After the fire at our deli in 2019, there were some pretty special items that we desperately searched for after the damage, and my Giusti barrel was unfortunately one of those." "The ultimate and traditional way to serve Giusti is with cheese, bread or meats," Mrs Anello continued. "It's amazing through a salad. But also served as a simple flavour enhancer with any dish – a splash beside breakfast eggs or a rib fillet. "With such a limited supply, Giusti is one of those products we love because of the heritage these vinegars bring to the table."
Importer and director of ACIT Group, Frank Casamento, used his Italian connection to the Giusti family to import the premium European product to Australian shores.
Mr Casamento said Aussies had for many years wrongly assumed a poor opinion of vinegar due to a lack of 'true vinegars' available on the market. He said Guisti's range of vinegars varied in flavour and sold for between $40 and $1000. He said the taste buds really began to pop when tasting the barrel-aged 25, 50 and 100-year-old products. 
"Much of the vinegar product on-shelf in Australian supermarkets isn't of a high standard, or aged correctly," said Mr Casamento. "With most Aussies referring to bad wine as 'vinegary', we've pretty much been taught to believe vinegar tastes bad for decades.  "While many Australians keep a bottle of balsamic in the pantry for dressing salads, Giusti is a world apart in quality and flavour. "We all think we know what vinegar tastes like, but Giusti is truly amazing. It's thick and rich. Some have berry flavours overlaid into wood chip and liquorice. It's very complex and absolutely marries into almost every flavour profile of food you can imagine. "It's vinegar's single origin parallel when compared to the wine and coffee world."

Link: The Courier Mail Article [Pay Wall]
Want to order Guisti Vinegar? Contact our wholesale team.
Supply is extremely limited, email or phone us today on
(+61) 07 3123 4141
. You can also request a meeting with our General Manager at ACIT. We'll take the time to discuss your requirements in detail. Want to view more? Simply click the button below…