Has Kraft Heinz Co. just created a paper-based ketchup bottle that will herald the end of the infamous plastic bottle? Read on to find out…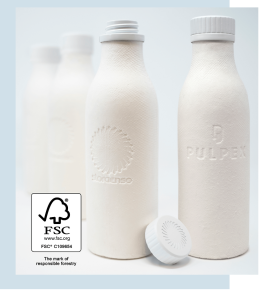 Heinz, maker of the world's favourite ketchup and beloved condiments, is teaming up with Pulpex to develop a paper-based, renewable and recyclable bottle made from 100 percent sustainably sourced wood pulp. Innovating its iconic ketchup bottle, Heinz is the first sauce brand to test the potential of Pulpex's sustainable paper bottle packaging for its range of world-famous condiments.
Pulpex is a packaging technology company based in the United Kingdom. The renewable and recyclable bottle is made from sustainably sourced wood pulp. According to the company website, Pulpex is a patented, first-of-its-kind pulp packaging solution that uses technological innovation to the deliver much-needed and highly anticipated eco-packaging solution.
"We hope to bring this bottle to market and to be the first sauce brand to provide consumers this choice in their purchasing decisions, as many consumers today are looking for more sustainable packaging options…" — Rashida La Lande | Kraft Heinz.
The new ketchup bottles are being used as prototypes to assess performance before testing with consumers and eventually bringing the bottle to market. The bottle will assist Kraft Heinz in reaching a goal to make all packaging globally recyclable, reusable or compostable by 2025. The company also aims to achieve net zero greenhouse gas emissions by 2050. Data from Pulpex indicate the carbon footprint of Pulpex bottles is materially less than glass and plastic on a bottle-by-bottle basis. Will this prototype be the cutting edge innovation that ENDS plastic bottles forever?