We stock Baker's Son Premium Pies & Pastry from across the Tasman.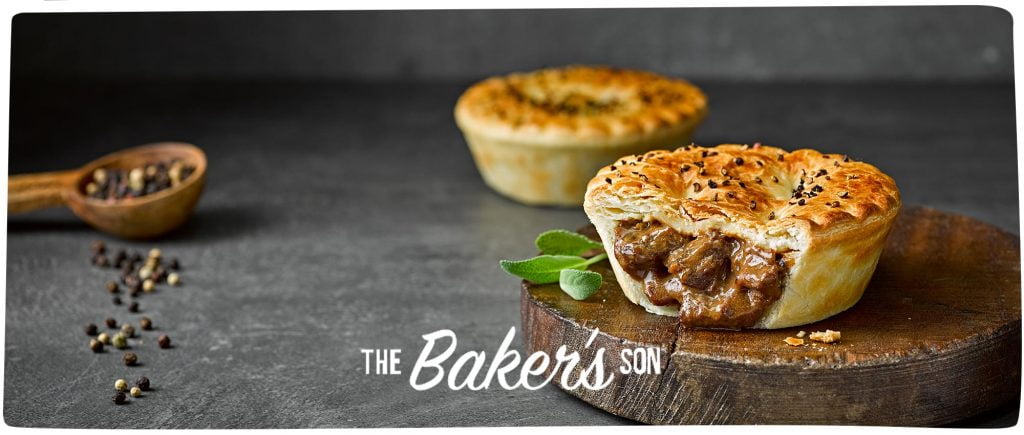 We are brothers who were born surrounded by premium pastry and pies. Dad started a company in 1981 making premium quality pies & pastrys in New Zealand, called Dad's Pies.
Most weekends of our childhood were spent in the bakery helping Dad mix the dough and cooking his famous recipes. We worked alongside Dad, helping to perfect the family's Award-winning pie recipes, and now we are on a mission to take our recipes to the next level.
We are The Bakers Son, a gourmet range of pies presenting our finest flavours yet. Using all-natural ingredients, no MSG or preservatives, to develop pie fillings that perfectly complement our Award-winning golden pastry. We offer various flavours in a 200g range, 900g Family Pie range and few different sausage roll options.
We strive to make our products of the best quality ingredients. Using all natural ingredients, there are no MSG or preservatives in our pie fillings and they combine wonderfully well with the Award-winning golden pastry.  We love pies and pastry in New Zealand almost as much as Aussies. When we found that Australians each eat an average of 12 meat pies a year, that's 270 million pies, while in New Zealand they are even more popular, with the average Kiwi eating 15 meat pies, which is 66 million a year. We knew we needed a product that would bring us together.
Our products have taken the leap and are now available in Australia. Thanks to our partners ACIT, our full gourmet range of The Bakers Son is available at selected stores across Australia.
We are the Baker's sons – pies and sausage rolls are what we know.
-Tom & Ben